Additive Manufacturing (3D Printing) is the processes used to synthesize a 3D object under computer control with successive material layers. 3D printing witnessing a huge potential market with new business modules, by establishing its own prominent position in Medical (Clinical, Dental, Orthopaedic and many), Architecture, Engineering (Aerospace, Automobile, Bio-material, Material and many) etc.
3D printing 2017 created a platform for 3D printers, researchers, bio printers, Surgeons, Material Engineers, 3D printing Industries & who all are the part of 3D printing, to pooling the knowledge on current trends, innovations and methodology in 3D printing. It came up with a theme "Novelties in Additive Manufacturing & Bio-printing" and focusing on
3D bio-printing
Engineered materials for 3D printing
Challenges
3D printing Applications
3D printers' development and Marketing Strategies
Additive Manufacturing (3DP) has received much attention in the press over recent years. Hyped as the technology to bring about a 3rd industrial revolution, Additive Manufacturing (3DP) technology was invented in early 80s. They remained a niche technology until the expiration of a key patent in 2009 allowed many start-ups to emerge offering cheap consumer-level 3D printers. A media frenzy in 2012 thrust Additive Manufacturing (3DP) into the limelight and 2016 has seen Hewlett Packard and General Electric enter the Additive Manufacturing (3DP) space. Even after the media hype some market sectors are still reporting huge growth rates.
3D Printing encompasses a range of various printing processes. The processes ar all primarily additive in nature, as materials are deposited solely wherever required, and therefore leads to considerably less materials wastage than ancient producing techniques. every of the technologies is appropriate to be used with a unique vary of materials, that successively defines the appropriate applications of the printer.
According to Wohlers Report 2014, the worldwide Additive Manufacturing (3DP) industry is now expected to grow from $3.07B in revenue in 2013 to $12.8B by 2018, and exceed $21B in worldwide revenue by 2020.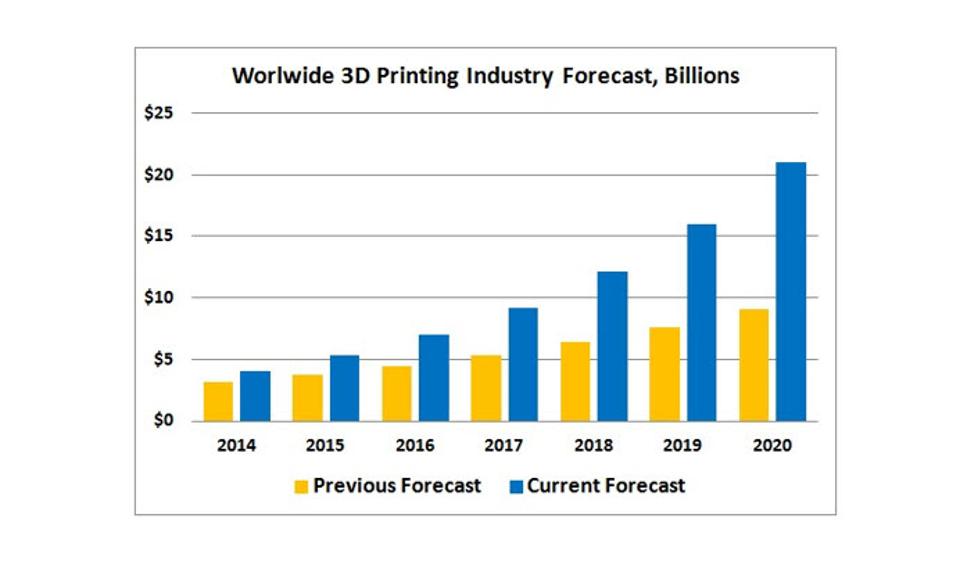 Prototyping (24.5%), product development (16.1%) and innovation (11.1%) are the three most common reasons companies are pursuing 3D printing. Of those surveyed in a recent Gartner study, 37% had just one 3D printer within their organizations, with 18% owning 10 or more. The average number of printers per organization was 5.4.